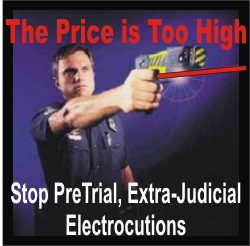 Electrocuted While Black

Tracking and reporting on pre-trial, extra-judicial death penalty, because it's 21st century lynching, by another name.
"Executed While Black" is a web site that I happened upon while visiting my friends at Jack and Jill Politics. JJP, in addition to being a free Obama campaign web site is also a member of the "Afrosphere" ring of Black bloggers. They promote themselves as promoting the best interests of Black people via their advocacy around certain issues.
Fair enough.
I have learned my job is not to challenge various Black Progressive-Fundamentalists on their RIGHT to focus upon anything that motivates them into action and outrage. Instead my goal is to develop a more clear outlook as to what the REAL THREATS are to Black people and then making the determination if those seeking "universal justice" are not biased in their coverage of these problems. I make use of statistics to tell the story on my behalf.
I call these people "Selective Activists Of Leisure" in that they are free to cherry pick about the focus of their advocacy. So much of their activism is IDEOLOGICAL in basis rather than PROPORTIONAL to the actual threats to the Black community. Thus it stands to reason that in protesting against the police - the authority - and their use of tasers, these activists feel that they are doing the Lord's work, speaking up for victims that everyone else has left behind.
Ironically - the taser was adopted as a means of providing law enforcement authorities with a non-lethal weapon to engage their criminal defendant as opposed to their firearm. I have little doubt that there would be a much greater record of death and injury that resulted from police interactions absent the use of taser. When have such rationalizations been of any use to an activist? Where as "one death at the hands of police" is one too many.......little guidance is given to individuals regarding their obligation in regards to not provoking a situation when in contact with law enforcement.
Do not get me wrong - I do believe that there are some law enforcement officials that misuse the taser and are in need of more training and more clear "rules of engagement". The taser should not be used as a punitive device but instead as a means of placing a combative subject who is under arrest into a submissive position so that he might be hand cuffed or placed in a cell. The exceptional incidents attract the news media and the activists.
According to the "Electrocuted While Black" site and Amnesty International:
Over 290 deaths nationwide



In the United States, more than 290 people have died since June 2001 after being struck by police Tasers, according to the human rights group Amnesty International.

It said in October that only 25 of the 290 were armed, and none had firearms.

The group has called for a moratorium on Taser use until more research is done.

"We believe that they should be used as an alternative to lethal force," said Dori Dinsmore, the group's Midwest director, "not as a tool to ensure routine compliance."



A 2004 study from the group shows many of those who died had underlying health problems such as heart conditions or mental illness or were under the influence of drugs.

Many also were subjected to repeated or prolonged shocks.

However, Taser International spokesman Steve Tuttle said of the 290 deaths that "in the vast majority of these tragic cases

medical examiners have ruled that the Taser was not the cause of death." He said Taser use was listed as contributing factor in six cases since 1998.



He said studies cited in trials supported the company, which

has not lost any of 61 product liability cases settled so far
I would like to put the onus upon the "Selective Activists of Leisure". What is their solution to allowing law enforcement authorities to subdue a suspect and place him under arrest?
As I read the blog roll of Black blog sites in support of the "Electrocuted While Black" issue I see how the setup will be waged:
"Constructive Feedback is questioning why we are pursuing this issue where 'Black people are dying by the hands of the police'. Since we are trying to save BLACK LIVES and he is questioning our motivations and asking us about other issues....he must be trying to undercut our movement and thus.....he is against the best interests of Black people".
According to the web site of one member of the Afrospear - there have been 302 people killed in just ONE CITY thus far in 2008 - Philadelphia. We can use the statistics from previous years to make an interpolation that upwards of 80% of these 302 killed in Philly this year were Black people. Let me remind you - this is just ONE CITY in ONE YEAR that has not even ended yet. The 290 people who died after being tazed (sorry "electrocuted") covers a 7 year span AND the ENTIRE NATION?
Do you see my point?
Why is it that a particular gruop of activists gets to selectively choose which OUTRAGE they will cry "civil rights violations" upon, while being errily silent regarding a far, far, far bigger "Grim Reaper" that is in their midst?
How does one LOGICALLY look past the greater threats to the health and life of Black folks that go beyond the police and/or their use of tasers?
The greatest number of unchecked Civil Rights Violations in America today is happening IN some Black communities where crimes go unpunished due to witness intimidation far better than the Klan ever achieved.
What about the Black people who are victims of brutal crimes - burned just like the Lynch mob used to do:
If we were to focus our attention upon Blacks who are TOTALLY INNOCENT - absent any contributing acts that have rendered their deceased state - which is the greater population? Those who were "tasered to death" by the Police OR those Blacks who are now dead from stray bullets shot by "Drug Thugs"? (please note - this is but one modality of death - the stray bullet. I don't have enough free time in my hobby of blogging to document all of the other form of death rendered by the 'Drug Thugs'.
Afrospear has a right to advocate against the Police.
I have a right to advocate against those who refuse to address the REAL issues within our community per what the numbers indicate.